1. Italic: the most popular style since it is so versatile, yet easy to read. It is used most often for poems, invitations, greeting cards, and addressing envelopes.
2. Uncial: has a simple modern look but is a wide letter so needs lots of room. The alphabet has only capital letters.
3: Black Letter: also known as Old English, is used for religious work, resolutions, testimonials, memorials, awards, diplomas, and certificates.
4: Bookhand: is similar to Italic but without the slant and more round, Roman capital look.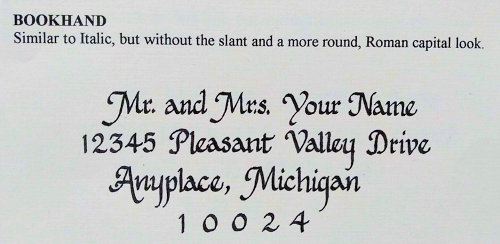 5: Copperplate: is used for wedding invitations, certificates, and engrossed documents. It lends itself easily to flourishes.
6: Piece of artwork combining several calligraphy styles.
| | |
| --- | --- |
| Skill Level: | Beginner |
| Skill Details: | This class is appropriate for those 15 and older. Class size is limited to 10. |
| Materials Included: | All classes include supplies and tools. |
| Instructor: | Rose Marie Starke |